Ohiopyle State Park is approximately 20,500 acres of natures beauty and is located approximately 25 minutes drive from Claycomb Chalets. Nestled in the southwestern corridor to the Laurel Highlands, Ohiopyle is home to millions of visitors annually who come to experience the beauty and activities the park has to offer. The famed Youghiogheny [yawki-gay-nee] River Gorge is the centerpiece for Ohiopyle. The "Yough" pronounced as "yawk" provides some of the best whitewater river rafting, kayaking and boating adventures in the eastern United States.
Here are the Top 10 Activities to do at Ohiopyle: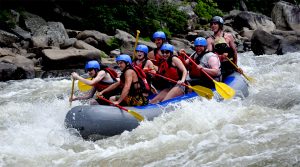 View Ohiopyle Falls and stroll through the borough of Ohiopyle.
Brave the river with a trip on the Middle or Lower 'Yough.'
Explore beautiful rare plants and fossils on Ferncliff Peninsula.
View the deepest gorge in Pennsylvania from Baughman Rocks.
Plan a picnic with a picturesque view at Tharp Knob.
Visit the local shops, bars  restaurants in the borough of Ohiopyle.
Start your hiking or backpacking trip on Laurel Highlands Hiking Trail.
Bike the Great Allegheny Passage to a nearby trail town.
Ride the sledding hill when the snow falls.
View the waterfall at Cucumber Falls.
Water Sports  & Whitewater Rafting
Schedule a whitewater adventure tour down the lower or middle "Yough", the busiest river east of the Mississippi. Test your skills on the lower section of the river that features Class III and IV rapids. The lower Yough adventure spans a total of seven and a half miles down the Youghiogheny river.
Less experienced paddlers and families with little ones can schedule a leisurely trip down the middle Yough's Class I and II rapids. The Middle Yough is popular among amateur kayakers, fishing anglers and the tours allow boaters to soak in the beautiful surroundings of the Laurel Highlands.
Canoeing, Kayaking & Stand-up Paddle Boarding
Ohiopyle is an East coast hot spot for Canoeing & Kayaking as well as the latest craze, Stand-up Paddle Boarding or SUP for short. Whether you are an experienced paddler or going for the first time in your life, Ohiopyle has rapids for all skill levels. From flat waters to Class IV rapids, Ohiopyle is one of the most popular SUP, Canoeing and Kayaking destinations on the East Coast.
Hiking & Biking
Ohiopyle is one of Western Pennsylvania's hiking and mountain biking top destination points. Hundreds of miles of trails varying in difficulty are available for all hiking and biking skill levels.
Popular hiking trails include Baughman Rock Overlook, Cucumber Falls, Meadow Run Trail, McCune Trail and Suguarloaf Trail System are all located within Ohiopyle State Park.
Ohiopyle mountain biking trails include Canyon's Edge, Jonathan Run, McCune Trail and Sugarloaf Run Trail.
Other Outdoor Activities
Ohiopyle has many outdoor activities for adventurers of all ages. Spend a day on one of the many local golf courses, take a horseback ride or zip through the air on the zip-lines at Ohiopyle State Park
Shopping & Dining
Ohiopyle has several shops and places to eat within the borough. Grab lunch and brew at Fall City Restaurant and Pub, an old garage converted into a swanky river bar filled with patrons of the Yough or stop by the famous Ohiopyle House Cafe for a craft drink or yummy appetizer. If pizza is your things, make sure to stop in to Paddler's Pizza. Pick up a quick sandwich or fresh apple pie at Ohiopyle Bakery & Sandwich Shop. The is no lack of places to eat in Ohiopyle. Just plan for a wait during peak seasons and holiday weekends!
Other Area Attractions Include:
Frank Lloyd Wright's Fallingwater
Frank Lloyd Wright's Kentuck Knob
Nemecolin Woodlands Resort & Casino
Contact Information
124 Main Street
Ohiopyle, PA 15470-0105
Phone: 724-329-8591
Manager: Kenneth Bisbee
E-mail: ohiopylesp@pa.gov